This was written 15 January 2002, & the Hungry Buddha is gone now, but this is still an interesting description.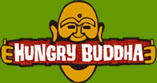 Just got back from lunch at the Hungry Buddha. Man, that was good. It's a small place on Washington Street in downtown St. Louis. There are signs all along the walls: "Buddha would bus his own table". "Buddha would tip". "Overfilling your bowl is bad karma". A stereo played a mix of tunes, everything from Smashing Pumpkins to other stuff — and at a reasonable volume that made conversation easy.
The food was really great. Basically, you grab a bowl and go through a vegetable buffet — probably the best vegetable buffet I've ever seen, with peppers, sprouts, carrots, celery, shitake mushrooms (!), and more! — filling your bowl, then go to the counter and answer a few questions:
"Rice, noodles, or broth?"
"One bowl or all you can eat?"
"Tofu?"
"Water, tea, or soda?"
"What kind of sauce?"
They take your bowl into the kitchen and cook it up to your specifications. 10 minutes later, a hot, steaming bowl of yummy goodness is delivered to your table. Cost? $6.50 for a bowl, or $7.50 for all you can eat.
I got the Sichuan sauce with rice & tofu the first time, and then I went back for Black Bean Garlic sauce with rice & tofu. Both were excellent. However, next time I go, I think I'll just get one bowl — I ate both, but I think I accumulated some gluttony points with the hereafter.
If you're downtown and feeling hungry, check out the Hungry Buddha — you won't be disappointed!